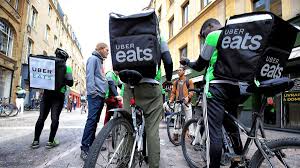 The MySMARTcab platform specialised in managing collective actions, founded by Me Christophe LEGUEVAQUES (Barrister-at-law) in collaboration with Me Marlene ELMASSIAN (Barrister-at-law specialised in Employment law) of JACQUET-DUVAL law firm, has launched an unprecedented collective action against UBER EATS.

The main objective of this collective action is to obtain the reclassification of the working relationship of hundreds of bike couriers under a contract of employment, and to offer them compensation to which they are legitimately entitled. According to our estimates, and on the basis of the working conditions of the bike couriers (i.e. working on Sundays, evenings, maximum hours of work flouted), each participant in the action can claim to obtain a minimum of 10,000€ in compensation.

This legal procedure will be divided into three steps. Firstly, from 23rd of July 2009 to 30th of October 2019, bike couriers can register to participate in the procedure via the Internet (www.delivreznous.fr). The second step involves the discussion/negotiation process. In this regard, and in accordance with the provisions of the Labor Code / Employment Statutes, a discussion will be proposed to UBER EATS in an attempt to come to an agreement and resolve the matter amicably. Finally, the third step depends on the success of the exchanges and outcomes of the negotiation. In case of failure to reach an agreement, the Conciliation Board will refer the case to the court office and in this context open a hearing at the Employment Tribunal in Paris.

Officially qualified as "freelancers", the bike couriers officiating for UBER EATS tick all the boxes of an employee today, and to this end can claim for such a reclassification of the working relationship giving right to compensation and to legal protection resulting from it (i.e social Security, unemployment benefits, paid leave, ...).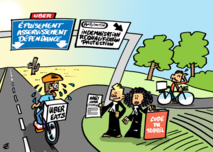 A RECLASSIFICATION NECESSARY AND IN ACCORDANCE WITH CURRENT CASE LAW
The collective action against UBER EATS is indeed more essential as the working conditions for bike couriers have deteriorated in recent months. Accidents have resulted in injuries or even deaths in France and all over Europe, a growing number of couriers causing a considerable drop in income, increasingly high summer temperatures, exacerbated competition... Suffer or act, it's time choose. This is the message that must be delivered today in consideration with, perhaps, the fall of the UBER system in France.

Moreover, if UBER EATS refuses to listen to its « disguised workers » at present, who, because of their current status do not have the power to appoint employee representatives, the judge does not and will not agree to this exploitation.

Since the judgment of Take Eat Easy on 28 November 2018 from the Cassation Court and the judgment on 10 January 2019 from the Court of Appeal of Paris, the judges systematically proceed to this reclassification and grant compensation of up to 65 000 €.

It is in this perspective that we wish to create a real balance of power by offering bike couriers in France, irrespective of their age, status and social background, the chance to make their voices heard and get the protection and the money that UBER EATS owes them.

SOME STATS

20 000 bike courriers in France
UBER EATS present in more than a hundred cities in France
Reclassifications systematic henceforth
Up to 65 000€ in Compensation